Medals China strives to facilitate you with premium quality custom medals, proficient craftsmanship, and exceptional services. With their qualified artists, you'll get your desired piece of art within 12 hours or less. It's simple to create your personalized dream medals. Company staff is always there to help you in creating perfect medallions for your moment and according to budget.
Everyone loves appreciation of his struggles and hard works. Back in 90's people were awarded the same boring and unknown medals. There was no specific category, name, or event is mentioned. Everyone was awarded the same medals, no matter he was the winner in the race or an academic event. Once, these award medals were awarded only to athletes, but nowadays, the medals are given as an honor for teams and organizations for their recognition. Now it's trending to award custom medals to your team members on anniversaries and target achievements. Medals are always a highly valued award that reminds the victory and winning. And when someone gets a personalized medal, then it would be cherished for him to see his name or event on the Medal.
The medals are then kept as a souvenir in the drawing rooms or living rooms where everyone can see and appreciate them for sure. Everyone loves to have personalized things. Whether it is a name, a slogan, or an image, in this regard, medals china is striving hard to provide the best services around the world. The company was founded back in 2013 with 80 expert workers. The size of the workshop was around 3600 meters. Medals China is considered one of China's huge medals' suppliers, specializing in customized medals. The company has a factory set up for production and selling. The company does not only produces medals but also provides custom coins, custom keychains, rubber bracelets, etc. Medals china has the best customer care services 24/7 according to European and American time and is ready to solve the problems.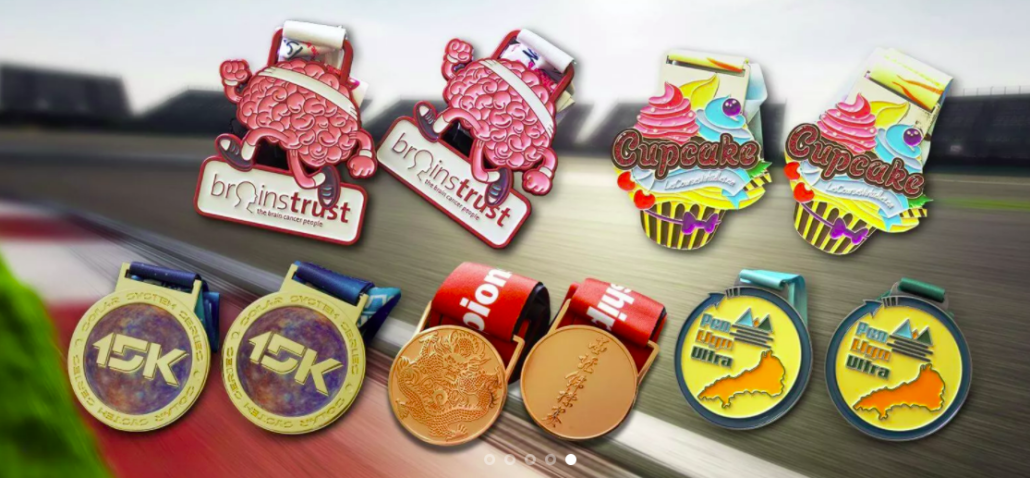 The award manufacturer company is a substantial company in China and certified by ISO 9001-2015, SEDEX, and Government Environmental protection. The attested company is responsible for providing guaranteed products to their clients. Additionally, the clients are very happy with the custom medals and perfection to their desire and leave amazing reviews on the company website. So, one can easily approach the ideas from their reviews.
Why choose Medals China for custom medals?
The company makes incredible medals categorized as custom medals, Stock medals, PVC Medals, Custom Lapel Pins, Custom Coins, Custom keychains, and rubber bracelets. The company can cover any kind of event, whether it is a running, Marathon, singing competition, cycling race, swimming, or any dance function. Medals china has everything that one can desire. From soft Enamel processing custom medals to the latest 3D medals, from die casting picture medals to Christmas Running Medals, from custom Equestrian medals to custom carnival medals, Medals China has everything you need for. However, they are offering a range of:
Custom medals
Personalized medals
Custom race medals
Custom award medals
custom running medals
custom gold medals
custom military medals
custom sports medals
custom belt
custom buckles
custom bottle openers
custom dice
champion ring
custom refrigerator stickers
custom badges
From sports medals and varsity teams to academic awards and marathons, the custom medals are sparkling in every aspect of life because they take pride in their struggles. The manufacturer of custom medals is fully automated and loaded with highly efficient machinery and tech, which produce finely crafted custom medallions. The company offers very pocket-friendly rates for their personalized medals. Even, they cost lower and never compromise on their product quality. However, if someone is ordering in bulk, then the company offers competitive pricing to their beloveds.
Also, the company leads with the best customer care facilities. They support their customers with the best and are always there to help them regarding their services. The call center is working day and night. Racing is an ancient sport; sportsmen were awarded the same styled medals that they don't remember when they won or which was the event. Most of the medals have the same general pictures of running. But with the time Medals, china produces such memorable medals which everyone loves and wants to show them as a pride. The beautifully crafted custom medals with having their personalized names, events, and years remind you perfectly that when and where you have won. The winners love to decorate them as a memory in their significant rooms.
How to order the best custom medals in China?
It is very hard to select a medal for an event. Because medals become memories, and memories should be sweet and unforgettable. So that one saw his medals after ten years, and a smile on his face memorized the specific event in which he won the Medal. Every organization, institute, and company want to present custom medals for their achievers to remain with them throughout their lives. However, choosing a personalized medal is quite a hectic task. Most organizations want medals of their logo or slogans, but when someone is confused about it, medals China has the solution for every problem. The company has the stock medals according to their designs and choice. If someone cannot decide how the medals should look, then it's the best choice for them to choose their pre-designed medals. Through these pre-designed custom medals, you'll also save your setup charges and time.
Moreover, the company has an artwork department in their production house. Where almost eight highly qualified and well-experienced artists are working day and night for the satisfaction of their valuable customers, you just need to give basic ideas, color combinations, words of your personalized medals, and the rest of the work will do their artists within 12 hours with their struggles and creativity. There are numerous reasons to choose Medal China for your time. Some of them are:
Competitive pricing
Premium quality products
Fastest delivery
Best business partnership with 60+ companies throughout North America, Europe, and Japan. 
Highly qualified team and experts
SMETA certified
24/7 customer services
Fantastic service
For over six years plus years in the field and reaching race directors, event coordinators, coaches, team leaders, and industry owners with their slogan medals and awards. With their immense struggles in unbeatable pricing, premium quality material and manufacturing, custom designs, and leading customer support services, the company is making achievements day by day. They hold the right to give you a choice to recognize your big day and struggle to make your day memorable, which the event deserves. The company was honored to produce 10 million products in 2018, and the annual turnover is more than $5 million. And the products also meet the quality inspection standard of EN71 and CE.
Advantages of ordering custom medals from Medals China
If you need to order personalized medals, don't rely on any third party or third person. Please make sure that you're going to order through an appropriate recourse and real profile or website. Please verify first before making an order. So, it is necessary to ensure that the direct manufacturer will provide you with authentic and 100% genuine products at reasonable prices. Because the middle man will also take his profit, he will miss committing to you regarding material and delivery.
So, ordering from a direct producer like Medals China gives you huge advantages regarding exact premium quality, which showed as a sample, cost-efficient price for custom medals. You can find many custom-made metal manufacturers globally, but if you're looking for a worth ordering company, you must go for Medal's china. However, if you're still looking for the best medals production company, then you must visit Dongguan, Guangdong province.
Also, the personalized medals company offers secure surfing and many payment options for their client's convenience. The visitor can check consumer reviews from his eyes, and there's a huge range of custom medals given on the website page. You can visit the frequently asked question page for your satisfaction for more information. For making an order for a custom medal, first, visit the websites around you or familiar. Then compare the pricing and materials. So, choose the best product which is suitable for you according to your budget and demand. So far, Medals China is a reliable company in producing high-end quality custom medals that one can order blindly. This is the reason so that one can choose the most trusted profile all around the world.
Best custom medallions in China
There are countless medals available in markets. Every Medal comes with a different idea with unique pictures and specific materials for different purposes. However, you have a choice to choose a custom or personalized Medal in china. It is very important to know that what custom medals are? These are the medals that are based on companies' slogans, images, or words according to their choices. The customer demands what he wants, and Medals China is ready to make custom-made medals. So, every custom medal comes with a specific background. Custom medals are also available in every material type according to the client's budget. The commonly used material of personalized medals could be:
Iron
Brass
Zinc
Alloy
Stainless steel
Gold
Silver
Bronze
Antique gold
Antique silver
Antique bronze
Spray black
Spray in any color
Like material, different shapes are also personalized according to the customer's choice. One can choose an iron material medal with a rectangle shape, while the other can order the Medal in cut-outs or round shapes. Similarly, everyone can get a personalized medal according to his budget. Moreover, the company also offers custom Gold medals which are created with 18k gold plated medals. The custom gold medals in China are quite costly than other materials. However, most selling shapes of custom medals are round-shaped medals, rectangular-shaped custom medals, irregularly shaped custom meals, sandblasted custom medals, cut-outs custom medals, or any shape according to the client's demand. 
Additionally, according to your choice and shape, a custom medal is what you want. So, in this regard customer is free to choose any style and shape opportunity that he is thinking for. If you want to make your event more astonishing and unforgettable, choose a shape that normally people have never seen before. Medals China will turn your dreams into reality by producing 100% authentic custom medals according to order instructions.
While china medals are not only producing custom medals but also offer the facility of custom ribbons. Choosing the most appropriate custom medal ribbon is quite a tough task. Also, a suitable ribbon enhances the beauty of your personalized medals. No matter how beautiful medal craftsmanship is. It all depends on the perfect match of a ribbon. If you choose a weird-styled ribbon for military medals, then all the events will ruin and the struggles also.
The company offers two types of ribbons for their custom medals. The one choice is plain colored ribbons. Normally military medals choose one or two colored tones for their medals because simplicity looks more attractive. In some cases, custom military medals are enclosed with the double or triple colored ribbon, which consists of the country's flag colors that depict their serving for the nation.
Secondly, you can choose multi-colored or printed custom ribbons for your custom medals. You can print the words or slogans which you want to put on your bands. Like custom-made sports medals have motivational quotes printed on their ribbons. Or an organization can choose a custom award medal with the organization's name printed on ribbons. You also have the option to choose print on a single side of the ribbon or both sides in woven ribbons.
Process of custom medals making and their delivery
Every Medal has a story behind it. Like an athlete wins a race in 2017 on the national level and then he won again in 2018 at the international level, the personalized medals will remain him up to date and memorize with his winning, event, and all struggles behind his hard work. So, producing a custom medal is not an easy task. It is a complete responsibility that lasts forever. So, in this regard company puts their core attentions and detail in achieving the target with perfection. Their only purpose is to make their clients happy. And satisfied. For creating a single masterpiece, one has to go through the process like:
Design and artwork
Engraving mold
Die casting
Polishing
Plating
Color filling
Color filling by machine
QC (Quality Control)
Ribbon Weaving
Sewing Ribbon
Packing
Medals china will provide a sample first according to the order instructions. It depends upon 5 to 7 working days. First, the customer approves the design then the order will be completed according to requirement.
The process is not completed yet. The final process is to deliver the order with care and proper means so that the company and organization won't face any loss or damage. Medals china gives extra attention to their client's requirements that no one can. They are offering door-to-door services of delivering their customized medals. Their main sources are DHL, FedEx, and TNT. The whole process takes almost three working days. However, in some cases and for international orders, it takes almost 15 days; it depends on design quality and quantity.
The company takes serious notice of the packing of custom medals. The packing types included poly bags, bubble bags, OPP bags, Plastic boxes, and gift boxes. So, one can order any kind of custom medals without any hassle or damage. The company is responsible for their safe delivery, and you'll get your orders of personalized medals in time. For making their delivery process faster, they always choose authorized and guaranteed courier companies who deliver the parcels with care and responsibility.
How to order Custom Medals?
Now a day's technology has made everything very easier and accessible, while everyone can choose a medal while sitting at home and make a telephonic order or can order easily through websites. No doubt, medals China is struggling hard and putting their maximum efforts to bring the best. When you take a look at the website, we will get to know that the company has effective business relations with international countries, including North America, Europe, and Asia. Even Asia is the permanent metal contractor. The company believes in producing quality products that meet the requirements of its clients. They are offering quality materials in competitive pricing with market-based competition and, of course in time delivery.
Achieving high-quality certificates like ISO certified 9002: 2015, SEDEX, and inspection standards like EN71 and CE. So, there's no doubt left behind in the quality of the product. They aimed to deliver a premium quality product which they commit to their clients. So, Medals China can bet that no other company can give you similar rates with such quality, which they are offering that meet all the quality standers of custom medals.
For placing your order, please feel free to visit:
https://www.medalschina.com/contact/