Medals or medallions are a piece of metal that is used to acknowledge the services rendered by an individual. They can also be used to commemorate a place, group, or event. Often these are prepared in a custom medal factory where they are personalized appropriately for an occasion.
Difference Between a Medal and a Decoration
Often medallions and military decorations often cause confusion with one another. There is a small difference, a difference that makes all the difference. A military decoration is awarded for an act of heroism or a special service rendered, whereas a medal is an acknowledgment of an achievement. Medals and medallions can be awarded in place of or as a decoration, but decoration cannot be awarded in place of a medal. Many medals' factories create all sorts of personalized medallions, but the decorations awarded by the government have their prestige.
The military or the government generally awards decorations, but anyone can get a medal/ medallion from anybody. The origin of medals and medallions dates back to the time of BCC. Back then, they were worn as a piece of decoration as they were minted, especially for high-ranked places. With time, decorations and medals separated. Here is a brief history of the medallions.
History of Medals and Medallions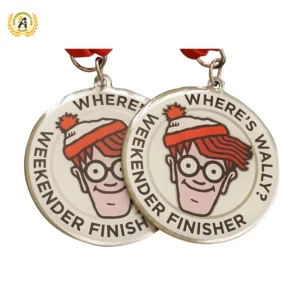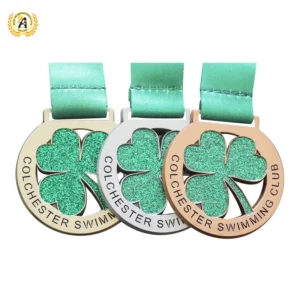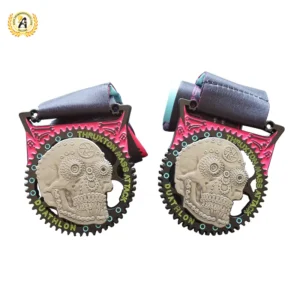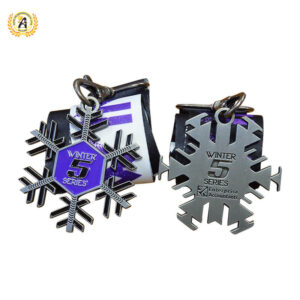 Medals and medallions are used so frequently that they have become an accepted artifact of our lives. There are so many medals' factories across the globe, yet it is the most profitable business because of their increasing demand. Yet few people know the origin of medallions.
There are various theories for the origin of medallions, but two of them stick out. The Italian painter, commonly known as Pisanello, is considered the pioneer of medal making, followed by the French, who, in 1455, made the first medallion to celebrate the expulsion of the English. They made medallions containing the portrait of Charles the 8th and Anne of Brittany. There was no custom medal factory at that time, and these were made at the minting machine.
Initially, casting a medal was a serious job, and it was the government to pass on as a gift or to honor a politician or other influential people to gain their favors. There was no custom medal factory. These medals and medallions were then set as jewelry and used by people of both sexes. These medals were given according to the status of the recipients, in the shape of Gold, Silver, Silver-Gilt, Bronze, and Lead.
At one time in history, people gave gifts to the converts of Christianity in the shape of medals and medallions. This was more observed in Anglo-Saxon England in 600 AD. There were no medals factories, and these medallions were made at the government level only.
The more common use of these medallions was in sight in 1600 AD when private enterprises made these medals as special awards as well as the government. The stamp was endorsed as a declaration that separated the two different types of medals. The business for the custom medal factory started then.
Interesting Facts About Medals and Medallions
At first, medallions were only used by royalty. Later, religious scholars started wearing medals. Then slowly, these medals were distributed for highly coveted sports, namely the Olympics, and then all fields started awarding medals and medallions as a token of appreciation. There was no custom medal factory for private use, which is why the presentation of medallions remained coveted.
No matter the time, official medals and medallions have always been shaped in a circle, like an oversized coin. However, the Olympics of 1900 were unique, which presented rectangle medals.
The custom of presenting gold, silver, and bronze medals was first introduced in 1904. Earlier on, there was no gold medal. The winner used to get a silver-gilt medal followed by silver and bronze medals by the first and second runner-up.
Types Of Medals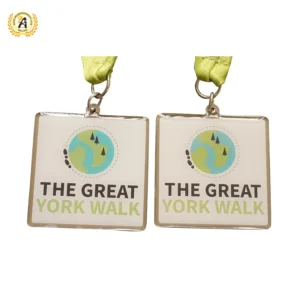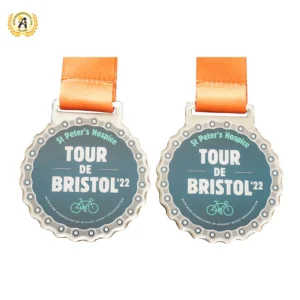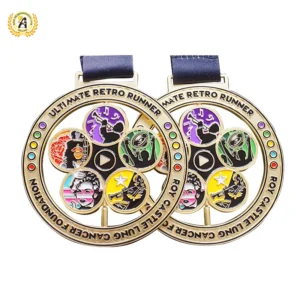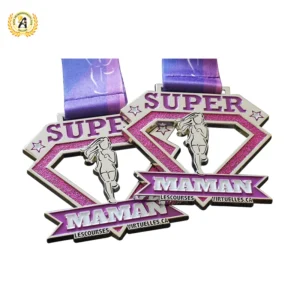 It is extremely difficult to summarize a list of different medals and medallions since there are so many, and they mostly differ from one region to another region. There are the medals awarded as a gift for a competition or awarded as an appreciation. Here is a list of medals and medallions you most often hear about. Except for the military medals, an authentic custom medal factory can customize all other medallions.
Military Medals
These are the most coveted of all medals. Military medals are often awarded to military officials, but as a sign of utmost honor, they are also awarded to civilians. These medals and medallions are awarded according to the service rendered by an individual. Each country has a different name for these awards, yet they all hold a superior position in the hearts of its people. Some of these are presented with a ribbon strung through them, and others come as a lapel pin, but all these medallions signify a highly honored service or an act. Though they can be replicated, no custom medal factory makes authentic ones. Military medals and medallions are only made through the government.
Academic Medals and Medallions
With the increasing popularity of the idea of medallions being presented as an award, educational institutes also adopted this method. Now all institutes award their students with medals as a token of appreciation for the student's hard work and efforts. These medallions are considered a prestigious award and are often saved as a memoir of the student's success. These days, students are not just judged over their academic success but also on their overall performance; hence the institutes have created various categories for awarding them and use medallions for that purpose. Many custom medal factories coordinate with these educational institutes for their yearly reward program.
Olympic Medals
This is actually where medals gained their importance in the first place. These medals represent the highest level of achievement. The summer medallions awarded in Summer Olympics are different than those awarded in the winter. The Winter Olympic Medals are heavier and slightly bigger than the summer ones. Olympics started using medals in 1900. But the gold, silver, and bronze medals were used in the Olympics of 1904. Earlier on, they used to distribute olive wreaths to the winner. The designs of the medals for the Olympics have varied. The 1928 design was used for the longest time, but in 2004, the design was changed in Athens.
Later, the idea of using medallions grew so much in popularity that these were introduced. First, all sports events, then in academics, and after that, medals became the only form of reward, regardless of the field they were rewarded in. A mention-worthy fact, no custom medal factory can make authentic Olympics medallions. These are made only through the government of the host country.
Field Medals
This category, for being awarded a medal, is the latest field. This is the highest award for a mathematician and is awarded every year to 3 or 4 mathematicians who are under the age of 40. It is considered the equivalent of a Nobel Prize. The committee for Nobel never introduced the category of mathematics, which is why Canadian Mathematician John Charles Fields initiated this award. Now it is considered the highest level of achievement for mathematics.
Competitive Medals
Ever since medals have gained popularity, this has been considered an appropriate award for all competitions. The winner of the competition is awarded a medallion to acknowledge the winner's efforts. These competitions can be of any field, whether sports, academics, dramatics or anything at all. These medals provide a sense of achievement to the competitors and are often cherished years after winning. Many medals' factories are established to make these personalized medals for different private competitions.
Appreciation Medals
The competitive medals are awarded to the winners of a competition. However, achievement medals are given to appreciate a service rendered or an act of excellence. These medallions are often awarded to companies as a token of acknowledgment or appreciation from the company to their employees. These medals and medallions are obtained from a custom medal factory.
Decorative Medals
Medals and medallions look good and give a feeling of achievement to their receiver. This is why a lot of custom medal factories are established across the world. Many medals' factories often work closely with private companies who provide custom medals for their clients to appreciate them. These are called decorative medals. These medals and medallions are often presented to dignitaries and other higher officials who visit the host. These medallions are given to honor them.
About Medals Factory
Medals and medallions are accepted artifacts of our lives, and despite their being so common, we all love accepting them as they represent a victory, an achievement in all countries. Medallions are presented as an honorary token of appreciation for guests and as a victory marker to competitors. It is presented as a token of appreciation in all fields of life, which is why medals factory are established everywhere and is turning into a profitable business. But few know about the origin of the medals factory.
Initially, medals and medallions were considered a high honor, only the government and royalty. Later, in the 16th century, these medallions were considered a work of art. These artisans were attached to royal courts, where they made medals and medallions only for the high-ranking officials of the royal courts. The papal court attracted artists from all over. Some medallions are still preserved by prominent artists like Galeotti, Domenico di Polo and Domenico Poggini in Florence and Giovanni Bernardi, Alessandro Cesati, and Leoni.
Then in 1900, the presenting of wreaths to the winners of the Olympics was changed to the presenting of Olympic medals to the winners, an achievement of the highest level for athletes. Still, medals and medallions were not used that extensively. This was changed by a single man, Manuel Cibrian, a Spanish weight lifting champion, who decided that athletes should be given recognition. He opened a workshop original medals factory in 1970 and started making his own medals. This is the origin of the current medals factory and medallions, from where the business started.
Establishing Medals Factory as a business
If you are thinking of starting a new business, then you can consider medals factories and medallions. Establishing one is relatively easy and has a huge return. Medals factories require a minimum of resources. You need a printing press, metal, and a minting machine. You can draft your designs for the medallions or can take custom orders.
Establishing a medals factory for medallions is profitable if you have a few contacts in the correct places. Schools and universities distribute medallions annually; sports events use only medallions as their reward system. Big organizations present medallions as a token of appreciation at the end of every year. If you can secure these orders, the medals factory will give you a huge return for these medallions. Medals factory is a profitable business across the world. The system of presenting medallions is an acceptance of appreciating individuals.
Medals factory for medallions represents many things. Medallions hold a high prestige; they represent your superiority amongst your peers. People use it as a sign of distinguishing a difference and display their medallions proudly. This is why establishing a medals factory is a successful business. With the smallest investment, it brings a good return.
Major Medals Factory across China
China is a country with a huge population. This is why there are more people to reward. There are several medals factory across china that produces good quality medallions. These medals factories have a sizeable clientele because of their fine quality medallions. Here is a list of a few of the top medal's factories across China.
MedalsChina is one of the largest factories of medallions in China. It produces a vast variety of products, amongst which medallions form a prominent sector. Their medallions are well known for their high quality.
Shanghai Metal Corporationis a producer of metal products, and they supply all over china. Their medallions are of premium quality, and they supply other metal products as well.
Dongguan Taiyao Metal Products Co., Ltdis a metal company that is specialized in creating all sorts of metal objects. They make custom medallions that are ideal for any event. Their products are of good quality.
Cangnan Feelwell Craft Factoryis specialized in making sports medallions. They have a huge variety of medals to choose from, and they take orders for custom medallions. This is a true medals factory.
Wenzhou Nishi Craftwork Co., Ltd.Again, it is a metal factory with a separate unit for the medals factory. They make medallions and medals in all metals.
Guangdong Pinstech Industrial Co., Ltd is a specializedmedals factory that produces lapel pins and medallions. The craftsmanship used is of the highest quality.
Wenzhou Xinmei Badge Co., Ltd. It is not a medals factory but specializes in metal crafts.
Zhongshan Medal Way Hardware Crafts Factory is a specialized medals factory that manufactures medallions, medals, lapel pins, and other such decorative.
Contributions of Metal Awards China or medalschina.com
If you are looking for reliable products at a competitive price, then look no more as MedalsChina is a specialized medals factory that deals exclusively in medallions, medals, lapel pins, and other metal gift items. All products are made of superior quality products. This medals factory hires professionals for all sections of the medal production to deliver a high-quality product for your events. As a medals factory, they have an established business with over 60 companies in America, Europe, Japan, and other regions.
Final Thoughts
Custom medals are an established industry. If you are looking to open up a medals factory, be aware of the competition. Medallions are kept as mementos, so be sure to provide the best material. The longer these last, the better your reputation and chances of acquiring new business will be. There are many medals' factories out there, but if you want to make a name for yourself, make sure you provide the best rates for the best materials. Be sure to increase your contacts with the right sort of people.
Make your presence known to potential clients by the right kind of advertisement. Medals factory can be a profitable business, but like all businesses, it requires knowledge of your product and knowing the right people. Medallions are the best way to appreciate someone, so your potential clients can be educational institutes, sports stadiums where sporting events are held, or even multinational companies; they all need to appreciate their personnel to encourage them. So as a medals factory, be sure to let them know about your work through proper advertising.